Chairlift Surfacing for Ski Areas
"The greatest benefits were consistency in ramps across the mountain, savings in labor from grooming and lift ops, and most importantly spring temperatures not constantly ruining ramps." -Chris Pingel, Dir. of Services, Granite Peak WI
Commercial White mSnow™
Super durable white artificial ski surfacing – engineered for the most demanding outdoor year-round applications
$15.25/sf (Same since 2020)
Low coefficient of friction
Maximum UV resistance
Cold cracking resistance to minus 30F (minus 34C)
Pure white in color
2 Year Guarantee in most applications
5+ Year Expected lifespan (depending on level of use)
Custom color matching is available
100% Recyclable and Made in Michigan, USA
Recycled Orange mSnow™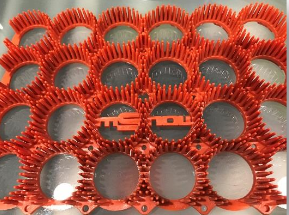 Extremely tough and long lasting orange artificial ski surfacing – made from recycled orange construction barrels!
$8.35/sf (Same since 2020)
NOT THE SAME as our Backyard Orange mSnow – engineered for commercial use on loading ramps
Low coefficient of friction
Maximum UV resistance
Cold cracking resistance to minus 30F (minus 34C)
High-visibility orange

Great for loading ramps
Can be used for high contrast border on white installations

2 Year Guarantee in most applications
5+ Year Expected lifespan (depending on level of use)
Made from at least 75% recycled plastic
100% Recyclable and Made in Michigan, USA
Recommend for most freestyle ramp applications
FOR QUESTIONS or TO PURCHASE  Please call us at (414) 397-1233 OR fill out the form below.  If we can't answer, please leave a voicemail and we will get back to you ASAP!
Lift Ramp Surfacing mSnow always beats carpet products in the demanding lift ramp surfacing application. It will save your lift ops crew lots of back-breaking shoveling labor not only during opening and closing procedures, but also in ramp maintenance during skiing hours of operation.  Additionally, mSnow will help your lift ops maintain the proper height in the load/unload areas. Also, you will see a savings in snow cat time each night as your ramps will require less snow prep time.  Tens of thousands of square feet of both Commercial White and Recycled Orange are in service across North America and Australia. We have dozens of ski areas that have worn out their mSnow and are now replacing it…a testament to its superiority as a lift ramp surfacing product! If you are considering replacing your mSnow, please contact us about a recycling credit towards your next order!
White vs. Orange This is our most-asked question relating to chairlift ramp installations. Our original Commercial White mSnow is always pure white in color where Recycled Orange may have very slight color variations (although none of our customers have ever commented on color variations).  Recycled Orange is substantially lower in cost due to our recycling efforts, but this doesn't mean the product is any less durable.  In fact, the extreme durability and low cold-cracking resistance of orange construction barrels is what inspired changes in our Commercial White product, improving it forever!
Race Shack and Course Dropin Surfacing Numerous ski areas have installed mSnow in their race start shacks to minimize the snow shoveling labor necessary to get prepared for race day. mSnow also provides a durable, slippery surface for melting or low-snow conditions on scheduled race days.
Utility Areas Althouth not as common, we have used mSnow for snowmobile access routes, wind-blown areas of ski slopes, and on man-made ski/snowboard access paths and bridges. Please contact us prior to ordering regarding any special uses like this.
Terrain Park Features mSnow has been used since the beginning for wintertime dropins and jumps in terrain parks. If you have a hard time opening your park on time, consider building portable take-offs and dropins with mSnow as the sliding surface. As your customers hit the features, they will naturally fill with snow making the user-experience very similar to real snow. mSnow could help you get your parks open sooner because takeoffs and dropins require extra snow, which is sometimes not available during the first few weeks of the season.
Installation Notes Comes in 7 x 10.25 inch tiles, pre-assembled into 21″ "6-packs". Ships in 75 square foot boxes making movement and handling at your ski area simple. Recommended 8 screws per square foot. Readily installs over plywood or 5/4 decking. Contact us with any unique or challenging surfaces.
IMPORTANT OPERATING NOTE mSnow survives the coldest, harshest conditions atop the mountains, but it can be damaged by operators. Make sure you train operators not to chisel or stab at ice buildups in the mSnow surface. If the ice is not tolerable, you can use salt or other ice melting products to remove the ice before re-filling with snow.
OR You Can Request A Customized Quote With Shipping HERE!
mSnow has proven its Lift Ramp DURABILITY in 100s and 100s of installations!